Improve Your Health with Restorative Dentistry Treatments
Dental implants are titanium posts that are placed into the jawbone to anchor restorations. Implants are considered the most secure method for replacing missing or damaged teeth. After determining your candidacy for treatment, one of our doctors can refer you to one of two local oral surgeons. Once your surgeon places the implants in your jaw, you will need to wait about four to six months for your bone to heal. Once the implants have fused, we can attach your new restoration. In many cases, we can also provide a temporary restoration during your recovery.
Bridges are a trusted way to replace one or more missing teeth. We offer several different types of bridges at our practice, including same-day bridges made with CEREC® technology. Traditional bridges have two abutment teeth, or crowns, that anchor the restoration in place. A cantilever bridge fastens to one adjacent tooth with a single crown, and is ideal if the treatment area does not have teeth on both sides. Finally, a Maryland bonded bridge attaches to nearby teeth with two small metal wings. We can advise you on which prosthetic is best suited to your needs.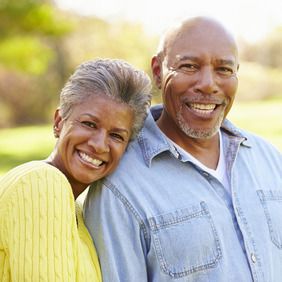 Dental crowns are large, tooth-shaped restorations that fit over damaged or weakened teeth. If you need to repair a front tooth that is visible when you smile, we will have our trusted dental lab fabricate your crown for best results. If you need a crown on a molar that is not readily visible, we can typically create your restoration in the office using CEREC® technology. With this digital imaging and fabrication system, we can design and affix your crown on the same day for immediately restored function. Our new CEREC® machine uses improved materials for even greater stability and a more lifelike appearance.
With advanced techniques and materials, our dentures fit precisely and look completely natural. We offer several types of dentures, including traditional and implant-supported, to restore your health and confidence. Full dentures have a plastic base and rest comfortably over your gum tissue. Partial dentures can replace a number of adjoining teeth. This type of restoration will clip on to your natural teeth with tiny metal clasps. We also offer immediate dentures so that you can enjoy full dental function following the extraction of one or more teeth.
Inlays and onlays are often recommended when a filling is not sufficient to strengthen a tooth, but the damage does not necessitate a crown. These custom-made restorations are placed on the biting surfaces of molars. They can protect weakened teeth and cover up larger cavities, helping prevent further decay. Inlays fit in between the cusps of your teeth, while onlays reach down the sides of your teeth. Also called partial crowns, inlays and onlays can last for many years with proper care.
Fillings are the most common solution for cavities. When placing a filling, Dr. McGibony or one of his associates will clean out your tooth to prevent further decay. The filling will also strengthen your tooth so that you are not at risk for structural damage. We typically recommend tooth-colored composite fillings, which will match your smile and form a more secure bond with your tooth. However, we can also provide a silver amalgam filling, if desired. If you have old metal fillings that you would like to replace, we can do so using composite material.
Full mouth reconstruction combines multiple procedures to improve your dental function and oral health. Our doctors take a comprehensive approach to reconstruction. They will determine the right procedures to address worn or broken teeth and correct bite misalignment. In this way, they can prevent or correct temporomandibular joint (TMJ) disorder, decay, malocclusion, and similar dental conditions. We perform full mouth reconstruction in stages and will typically address your most urgent concerns first.